ADVOCATE
Lend Your Voice to Champion the Cause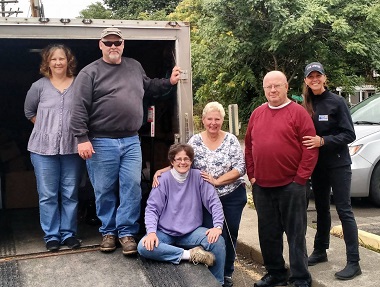 Advocacy is about more than signing petitions or writing letters to elected officials. It's about understanding the issues, speaking up, and promoting them to your family, friends and neighbors. You can improve education, income and health through advocacy and create hope and opportunities for our community.
Promote Your United Way
Speak up and stand strong as some who LIVES UNITED. Wear the LIVE UNITED shirt proudly in your community. Place a link on your website back to ours. Add the cause to your Facebook profile. Let your voice be heard and show the world what it means to LIVE UNITED.
VOTE!
One of the easiest ways to affect change in your community is by voting. Whether the issue is local, regional, or national, your vote is one way to raise your voice in support of your community.
Share your Story
How do you LIVE UNITED? Send us your story so we can share it with the community and inspire and motivate others.
---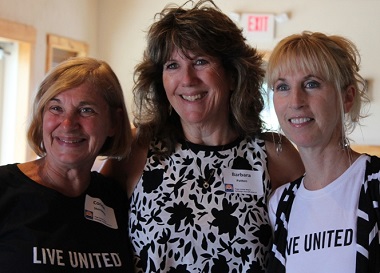 Throughout our history, United Way has done extraordinary work to improve people's lives and build strong communities. With our focus on community impact, United Way has a key role to play in advocating for good public policy. Without community input, our priorities in Education, Income and Health will lose critical government policy and funding support.
Join us and advocate for an Education, Income, Health or nonprofit strengthening issue that you are passionate about. Your community needs you to have an impact on public policy decisions. Advocating in your community does not simply mean lobbying on a specific piece of legislation.
There are many ways that you can advocate. See below for ways you can create social change in your local community.


Speak Out

Urgent Policy Priorities:

CONTACT CONGRESS TODAY IN SUPPORT OF THE PREVENTION AND PUBLIC HEALTH FUND
CONTACT CONGRESS TODAY IN SUPPORT OF FUNDING FOR EDUCATION, INCOME AND HEALTH PROGRAMS
Contact your representative in Congress about an Education, Income, Health or nonprofit strengthening issue.

EDUCATION: CONTACT CONGRESS TODAY IN SUPPORT OF EARLY CHILDHOOD PROGRAMS
INCOME: CONTACT CONGRESS TODAY IN SUPPORT OF TAX ASSISTANCE FOR MIDDLE AND LOW-INCOME FAMILIES
HEALTH: CONTACT CONGRESS TODAY TO PROTECT CHILDREN'S HEALTH COVERAGE
NONPROFIT STRENGTHENING: CONTACT CONGRESS TODAY TO PROTECT CHARITABLE GIVING INCENTIVE

Learn more about United Way's public policy priorities
Election Advocacy and Voting

United Ways and other nonprofits are a major partner in our Nation's social contract, along with government and the business sector. These three sectors share a core interest in ensuring we have a strong and healthy. As a partner with government, nonprofits have the obligation and ability to impact government policies that strengthen our communities. Our ability to positively influence government policy is enhanced by participating in elections at the local, state, and federal level. We are well positioned to ensure our communities participate in their democracy by voting. And we can use elections to educate and inform candidates and policy-makers.

Use these resources to engage your local, state or federal candidates on issues important in your community. Additionally, help individuals register and learnhow to vote in their communities.
---

Be informed
Learn how your community ranks in academic attainment, income stability and health. Use the United Way Common Good Forecaster, a powerful online tool that lets people see for themselves how improving the education level has a positive impact on several key economic and social measures.

Engage with your community
Host a community conversation with your friends, coworkers or neighbors. Learn about what people say are their aspirations for your community and talk about how you can work together to address challenges. Read the Harwood Institute Community Conversation Guide. (.pdf)
---
Raise Awareness About a Cause

Use social media tools to educate your friends and networks about an issue you care about. Sample tweets and Facebook messages are below:
Twitter

EDUCATION: Every dollar to early childhood programs saves 7 in adulthood http://bit.ly/xrMw0t #LIVEUNITED
INCOME: Children are the poorest age group w/ 15.5M children living in poverty http://bit.ly/LcCk31 #LIVEUNITED
HEALTH: Uninsured children in fair or poor health are 5X more likely not to have a regular provider of care http://bit.ly/yWNHsu #LIVEUNITED
Facebook

EDUCATION: Students who don't read proficiently by third grade are four times more likely to leave without a diploma than proficient readers. Support United Way's work to promote the importance of early grade reading: http://bit.ly/xrMw0t

INCOME: Children are the poorest age group with 15.5 million children living in poverty. Support programs that help poor children and families: http://bit.ly/LcCk31

HEALTH: Seriously ill children without insurance who end up in the hospital are 60% more likely to die than the sick children in the same facility who have insurance. Help United Way increase children's health coverage: http://bit.ly/yWNHsu

Tell your advocacy story